70 min HD, Burmese with English subtitles, by the Myanmar Film Collective
A hybrid film about life under the regime of terror in Myanmar in the aftermath of its military coup of February 1st 2021, told through personal stories by a group of anonymous young Burmese filmmakers.
Myanmar Diaries is built up of short films by ten young anonymous Burmese filmmakers, combined with emotionally harrowing citizen journalism documenting the junta's brutality, as well as courageous resistance to it.
The film shows how Myanmar goes from the military coup of February 1st 2021 to nation-wide protests and civil disobedience, to barbaric repression where thousands of peaceful protesters are imprisoned and murdered, to a growing popular armed revolt against this monstrous military junta.
Moving back and forth between documentary and fiction, the film is a seamless whole in which the protagonists find innovative creative ways to keep their protagonists anonymous.
An extremely urgent film in a time when Myanmar has almost disappeared from news headlines around the world.

This film, produced by ZINDOC, is made possible by the Netherlands Film Fund and Fritt Ord and is a coproduction with KRO-NCRV/de Boeddhistische Blik and Ten Thousand Images (Norway).
AWARDS
The Berlinale Documentary Award makes the film eligible to be submitted to the 2023 Academy Awards.
PRESS
– Powerful stuff, politically and artistically. – CINEUROPA
– Risking their lives to expose atrocities in Myanmar. – DEADLINE
– Chronicles life under a dictatorship in harrowing detail. – HOLLYWOOD REPORTER
– An urgent denunciation of human rights abuses and a thought-provoking work of art. – SCREENDAILY
– Anonymous citizen journalists paint a harrowing scene. – VARIETY
– A powerful and poetic chronicle of a year of rising violence. – MODERN TIMES REVIEW
***** A courageous statement. – RBB KULTUR
– We are close, very close to the protagonists, even if you never see a face. –DER TAGESSPIEGEL
– Powerful images, powerful testimony. – BERLINER ZEITUNG
– Daring to bring a harrowing cry for help to the big screen. – RADIO EINS
– Protest and resistance from the people's perspective. – DEUTSCHLANDFUNK KULTUR
– Documents the growing harshness of repression in the country. – REUTERS
– An extraordinary film. – RBB
– Like a message in a bottle…to remind the world: we are still here. –ARD – Beautiful as a statement, a cry for help and a film. The composition, framing, rhythm, music, it's all put so well together. – Film Kommentaren
– A story of human dignity and suffering. – INEWS
– Brings the country's angst and dignity to the big screen. – NIKKEI ASIA
SCREENINGS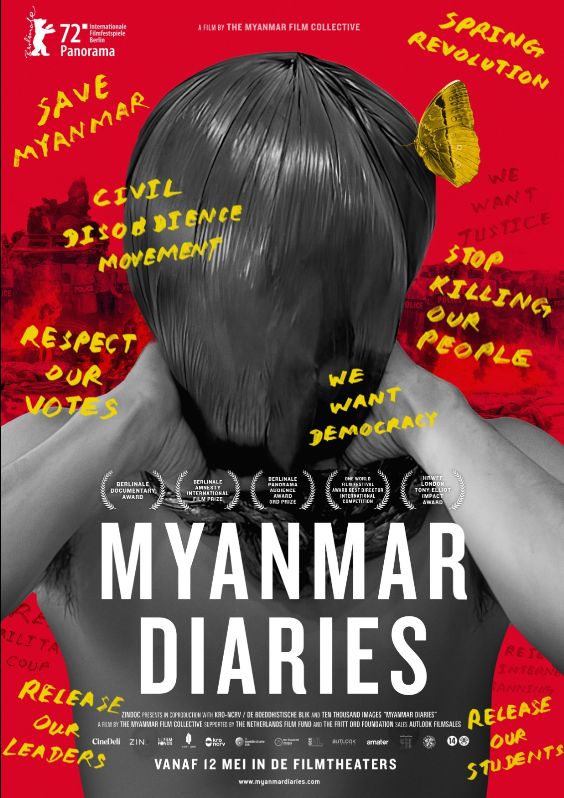 Here are ways you can help support those in Myanmar right now:
Donate directly to a local organization in Myanmar.
Donate to a humanitarian aid organization providing assistance in Myanmar.
Contact your representatives.
Support local journalism.
Educate yourself and others on social media.