Mijn naam is Richelle van Loon.  Ik ben geboren in Frankrijk en woon momenteel in Amsterdam.
In mijn afstudeerjaar monteerde ik de films Demi en Waarom bleef je niet voor mij? Met de film Waarom bleef je niet voor mij? wonnen we de VPRO documentaire prijs voor meest veelbelovende documentaire crew. De film was in 2020 de best bekeken documentaire op 2Doc. En is genomineerd voor een Studenten Oscar.  Demi won de prijs voor beste Noordelijke film tijdens het Internationaal Filmfestival Assen. 
In 2021 zat ik in de toelatingscommissie van de richting montage aan de Nederlandse Filmacademie.
Ook ben ik sinds 2020 ben ik aangesloten lid van de Nederlandse Vereniging van Cinema-Editors (NCE).
Ik wil mij graag bezig houden met zowel documentaire- als fictieproducties.
Programma's waarin ik werk: Avid Media Composer, Adobe Premiere Pro, DaVinci Resolve, Adobe Photoshop en Adobe After Effects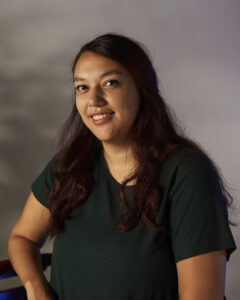 ——————————————————————————————————–
My name is Richelle van Loon. I was born in France and currently live in Amsterdam.
After two years of attending an editing course, in 2016 I started studying editing at the Dutch Film Academy. In 2020 I graduated.
In 2018 I assisted Ivar Iding, NCE with a new international youth series of the NTR: Heroes With A Tail, which was broadcasted in the Netherlands, Belgium and Germany.
In 2019 I started an internship at Peter Alderliesten, NCE. Here we have worked a lot on the new series Turbulent Skies.
In my graduation year I edited the films Demi and Why didn't you stay for me? With the film Why didn't you stay for me? we won the VPRO documentary prize for most promising documentary crew. With Demi we won best Northern film at the International Film Festival Assen.
In 2021 I was on the admissions committee of the Netherlands Film Academy in Amsterdam.
I would like to keep working on both documentary and fiction productions.